When is the best time to visit Stronsay? Each season offers something unique. What would you like to experience?
Visit Stronsay January-March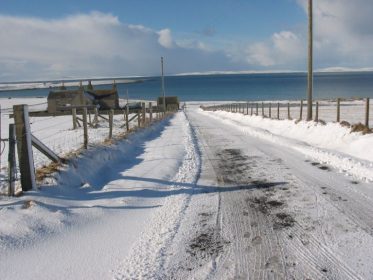 Wintertime in Stronsay can be an exciting time to visit. This is the season when you'll have the chance to really experience the many moods of the sea. There are days when the waters around Stronsay lie like smooth blue silk and gently lap the many-coloured pebbles and stones that line the shore. A long walk in the middle of winter on a white, sandy beach — which you'll likely have all to yourself — beach combing, bird watching or just filling your lungs with fresh sea air and letting the stress roll off your shoulders is a wonderful thing. Or what about wild swimming or snorkelling? On a calm day, there is no reason why you can't take the plunge — the temperature will likely be the same in and out of the water…
Toward the end of January, the days are beginning to lengthen and by the beginning of March, an evening stroll to admire the golden glow of the sunset is a fine way to end the day. And don't forget the  Merry Dancers (aurora borealis). You never know, they might just come out to play while you are here (to see a plot of auroral activity happening in real time, click here). And even if they don't, the deep, dark sky filled with an overwhelming number of stars is not to be missed.
If you're more into drama, there is plenty of that about, too! January and February are generally the windiest months—with winds averaging 22mph/35kph, but they can reach speeds of 60 mph/100kmh (or more). It (literally) takes your breath away! The sea pounds and roars and foams, and leaves you in no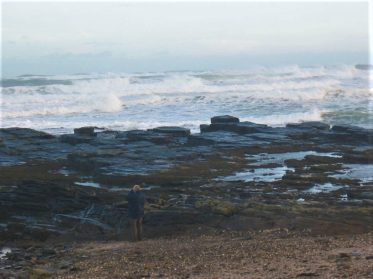 doubt about who is in charge here. It fills the place with an energy and sound that keeps the adrenaline flowing. After a storm, you never know what you'll find along the shore—lots of shells, driftwood, perhaps a bottle with a letter in it…
Often, to push away the winter darkness, someone in the island will organise a concert or a pantomime. There are usually monthly events in the hall—musical evenings, darts, euchre, quiz nights, or a fund raiser of some kind (check the Events Calendar to see what's on offer). The Fish Mart café provides a warm place during the day to hunker down and enjoy a warm drink and a hot meal and offers free wifi. Or perhaps you'd like to visit one of the workshops of the crafters on the craft trail — be sure to contact them first, though.
To read a blog post about visiting Stronsay in the wintertime, click here.
Visit Stronsay April-June
Ah springtime! Sunny daffodils line the roads and wildflowers emerge from their winter hiding places. The island clothes itself in an emerald cloak and the skies are often intensely blue and cloudless, affording wonderful views of other Orkney islands—and sometimes even of the Fair Isle. Lambs frolic in the fields, the cows have returned to their contemplation of the incredible vistas from their rich pasture lands, and birds are nesting and hatching, calling, swooping and circling all over the island. The extended hours of daylight bring out a range of intense colours in everything and help stretch the amount of time available for outdoor activities. The ground is usually dried out enough to encourage long walks along the cliff edges towards the Vat of Kirbister or along Lamb Head (for a brochure detailing some Stronsay walks, click here). Rain is never far off, however, and there is generally a breeze blowing, so don't forget to bring weatherproof coats and footwear. If you're here in April, you might join in the Orkney-wide beach clean-up referred to as 'Bag the Bruck'.
Mid-summer's Eve (as long as it's not cloudy…) is quite impressive – you can actually read the
newspaper outside at midnight (if that kind of thing appeals to you). In fact, it's common for locals and visitors alike to fail to realise how late it's grown, caught up in various activities outside. The sun merely dips below the horizon for an hour or two, and it never really grows dark. No  skies filled with stars and no possibility of viewing the aurora though…
In May, the island usually hosts a craft fair, showcasing local arts and crafts and offering teas, coffees and an abundance of home bakes for which Stronsay is famous. Some years, the Orkney Folk Festival or the St. Magnus Festival bring concerts to Stronsay for the enjoyment of locals and visitors alike. June is the month for the North Isles Sports day, which is held in Stronsay every third year. Because this is generally a busy time in the farming community, with ploughing, planting, lambing and silage cutting, there are not as many events planned in the hall, but again, check the Events Calendar to see what's on if you're planning to visit Stronsay in the springtime.
Visit Stronsay July-September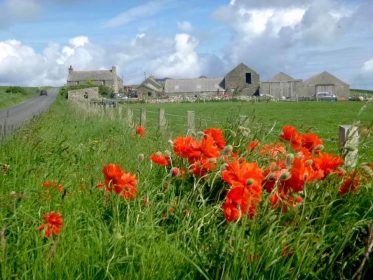 Summertime in Stronsay is marked by a slight rise in temperature (though rarely above 15 degrees) and drop in wind speed. There are rare days to be savoured when the wind drops away altogether and the haunting sound of selkie (seal) song fills the air. True, windless days encourage midgies to hang about waiting for a tasty victim, but they are nowhere near as noticeable as they are in other parts of the country. Although rain is never far away, the weather can change so quickly this time of year that a glorious afternoon and evening can make up for a not-so-fantastic morning. If you are planning to tent camp, this is probably the best time of year to do so.
In August, many locals head for the County Show in Kirkwall (second Saturday of the month), and Stronsay hosts its Massive Weekend the following weekend. This is a great gathering, often a sort of homecoming for Stronsay folk who have moved away. Games and competitions for all ages, a vintage car rally, barbeque, home bakes, a craft fair and musical entertainment are on offer through the day, and a dance is held on Saturday evening. Then it's back to school for the children (there are about 50, from nursery to S4) and staff (the school is one of the island's biggest employers) and harvest for the farmers.
Visit Stronsay October-December
The days have grown shorter and the nights longer, but autumn and the beginning of winter bring a mixed bag of weather. There can be a sort of Indian Summer in October, and Christmas Day is often still and sunny – but not always. The bright green fields are now a soft golden brown, but having been shorn of silage, hay and barley, they are excellent places to view flocks of migrating birds. In October and November, the grey seals are pupping along the shoreline and on the holms around Stronsay, and you can get astonishingly close for viewing and photographing. But beware — your presence can send the mother seals rushing for the sea, which can endanger the babies. And, believe me, angry mothers can move quickly, and frightened babies can be dangerous if you get within range! Respect and admiration from a suitable distance are in order, but they offer a fantastic wildlife experience that would be difficult to find elsewhere.
The Harvest Home celebration meal and dance takes place on a Saturday in late October or early
November. On the nearest Saturday to Boxing Day, a fireworks display is set off at the hall, where a supper of haggis, mince and clapshot (transl. = 'neeps and tatties') is served, and there's often a quiz afterwards. And then suddenly it's the Christmas season! December offers a number of events, many geared toward children — but not all. There is generally a craft fair at the beginning of the month (sometimes it's on the last Saturday in November), a Carols by Candlelight informal gathering in the church hall, Christmas parties hosted by the SWRI, the church, and the school, a Santa float and carol singing in the pub, and Christmas Eve watchnight service in the church, and some kind of community Hogmanay event usually takes place at the hall.