Stronsay Hotel
The hotel has recently been purchased on behalf of the community and will reopen for the 2022 summer season before undergoing major renovations in the autumn and winter. Three twin rooms and one large family room can be booked, and disabled facilities are available. The hotel has a licensed bar and offers evening meals to hotel guests and take-away food service on Fridays.
Tel: for hotel bookings 01857 616 410; for bar/takeaway orders 01857 616 407
Email: stronsayhotel@gmail.com
Online: https://www.facebook.com/Stronsay-Hotel-Pub-103521565710256/
Storehouse B&B
This family-run establishment, recently built and beautifully (and comfortably) decorated, offers a choice of 4 en-suite rooms, 2 twin/double, 1 single and 1 family room (travel cot available).  Rooms are equipped with TV, free WIFI and tea/coffee-making facilities. Guests are welcome to relax in the lounge and can order lunches and evening meals, which are served in the dining room. Disabled facilities are available, and there is wheelchair access. 
Tel: 01857 616 263
Email: annemaree.carter@btinternet.com
Online: Find us on Facebook
Stronsay Fishmart Hostel & Café
A café and hostel, recently refurbished to an excellent standard situated within 2 minutes walking distance of the Stronsay ferry terminal.  Open all year round, the hostel has 4 en suite bedrooms accommodating up to 10 people. Shower and laundry facilities are also available for visitors (including sailors). The separate café serves tasty home bakes and is open for teas, coffees, baking and lunches. 
Café's winter opening hours are:
Monday-Tuesday: Closed, Wednesday-Friday: 8.00-14.00, Saturday: 9.00-14.30, Sunday: 11.00-14.30

Cafe's opening hours April-September:
Monday: Closed, Tuesday-Friday: 7.00-16.00, Saturday: 9.00-15.00, Sunday: 11-14.30
Breakfast served from 7.00-10.00 weekdays/all day on weekends
Tel: 01857 616 401
Email: fishmartcafehostel@gmail.com
Online: Website and Find the cafe on Facebook Find the hostel on Facebook
Camping
Whether you are bringing a campervan or tent, Stronsay has a variety of places suitable for camping. There are no established camping areas in the island, but often, those with camper vans choose to stay in designated parking areas. Public toilets are open 24/7 at the community centre (see map), which makes it a convenient spot (the views are great too!). If you find a place you'd like to tent camp and it's not a public space, please try to gain permission from the land owner. If you're not sure who that is, you can always ask in one of the shops or knock on a door to find out. You can find showers and laundry facilities at the Fish Mart. Please do not leave any trace of your stay behind (take all rubbish etc. with you), and please do not park in front of gates, drives or tracks.
Other Places to Shelter or Find a Hot Drink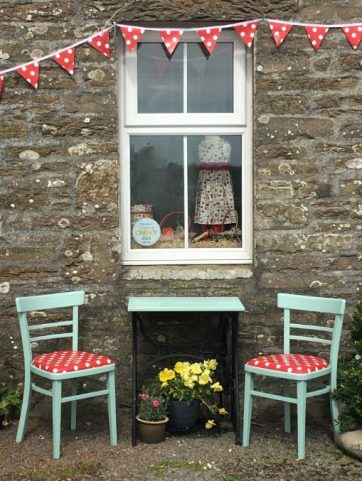 Need a place to get out of the weather? Find yourself a good distance from the village and in need of a hot drink? The Heritage Centre is open through the day and offers a self-service tea and coffee facility. During summer months, Airy Fairy provides a self-service cuppa counter for island and studio visitors. Please feel free to fill up your travel mugs or make a cuppa from the selection of drinks provided. Assorted biscuits are also available. There's no charge, but donations are welcome. Seating is available outside for anyone who'd like to enjoy a break with their cuppa.