Plans are well under way for a permanent home for the Stronsay Heritage Centre, but it is temporarily housed at Wood's Yard (see directions below).
Whether you're interested in just getting a general feel for the island and its cultural history, are looking for more in-depth information about your ancestors, or want to take a delightful trip down memory lane, there are plenty of artefacts and resources, including photo albums, charts, lists, magazines, articles, etc. to help you out.
New acquisition for 2022! Take a 360-degree look at various places on Stronsay (and other North Isles spots).
Why not pull up a chair, make yourself a cuppa and while away a rainy afternoon? Not that it ever rains in Stronsay…
The heritage centre is open every day from 9 am to 6 pm and entrance is free.
However, any donations (which would be put toward our future permanent site)
would be very welcome.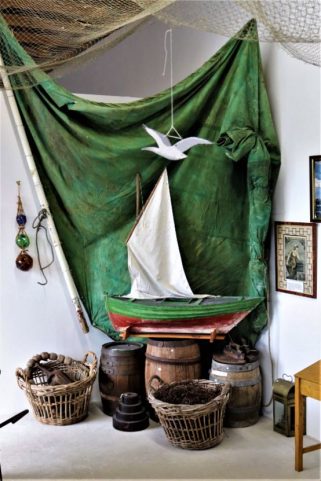 Contact: If you would like more information about the Heritage Centre, would like to know how to make a financial contribution or offer an item to display, please contact Ian Cooper (chair, Stronsay Heritage Society) 01857 616322 0r HeritageSocietyStronsay@gmail.com
Directions: Head west through the village. Just beyond Storehouse Bed and Breakfast is an entryway into the haulier's yard and Wood's Yard (the heritage centre is signposted on the wall alongside the entryway). Wood's Yard is comprised of several units, with the heritage centre in the middle. The unit is signposted, and the door should be unlocked between 9 am and 6 pm. If not, you can try the office at the far left as you face the units–someone may be in who can open up for you.