There are many ways to explore Stronsay — by foot, by bicycle, by motorbike, by island transport, by car, by boat — and each will provide a different way of experiencing the variety of riches the island has to offer.
If you travel to Stronsay by ferry or on your own boat, you will arrive at the village of Whitehall, a convenient base for beginning your exploration. It is a short walk to the hotel, hostel and bed and breakfast establishments if you are planning to stay on the island. The pub and Fish Mart cafe, as well as one of the island shops, are in the village if you want to grab a bite to eat. There is plenty of free parking for cars and bikes.
Many visitors who come from busier places are struck by the peacefulness of the village. 'Rush hour' is a relative term, and on Stronsay, it usually ties in to the arrival of ferries or the beginning and end of the school day. Even so, the roads are safe to walk or cycle, though you may be kept busy waving back at the locals, who greet those they pass in their car.
If you arrive by plane, a taxi can be arranged to take you into the village or wherever you would like to start your island adventure.
Explore by Bicycle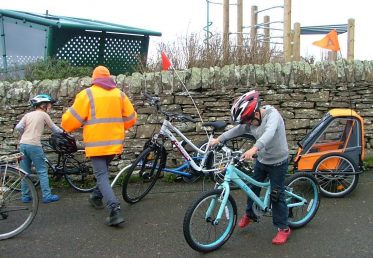 If you don't bring your own, Stronsay offers bicycles in a range of sizes to borrow free of charge. During the summer, it is a good idea to book them ahead of time from Ross, the shopkeeper, but you can always take your chances and just call in at Ebenezer Stores. The shop is located in the village, along the seafront.
Head north from Whitehall to St John's Hill, one of the lowest-lying hills in Scotland with a stunning 360° view of the North Isles and Stronsay. Or cycle across the centre of the island for a view of the interlocking bays by the school and Community Centre.
Many of the sites of interest and amenities are sign-posted, but you can view two PDF maps by clicking here.
Explore by Foot
There are so many walks of different lengths and abilities that you can do on Stronsay that we can only mention a few here, but you can open up a brochure that provides maps for four different walks and describes the types of flora and fauna you might find along the way, as well as offering cultural and historical details.
A short walk on past Whitehall Village in a westerly direction takes in the popular beach picnic and seal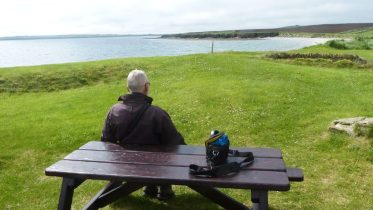 observation spot of the Ayre of the Myres. And if you head out from the village to the east, you pass through the council houses and the lower station out along the shore of Grice Ness, with its view over Papa Stronsay and Mill Bay.
A Dutch couple who have sailed on their catamaran to Stronsay and enjoyed many walks outwards from Whitehall village have produced several short videos of those walks, which can be found here and here.
Those looking to stretch their legs more can carry on to St Catherine's Bay (3.7 miles), a wide, round bay with shallow waters and an easily accessible beach (there is car park here for those who would prefer not to walk). For details, see Walk 1 in the brochure.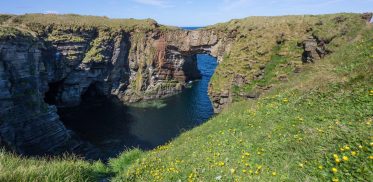 On the eastern coast, spectacular rock formations include the Vat of Kirbister –- Stronsay's famous natural rock arch, often described as the finest in Orkney. The coast around Odiness Bay features numerous dramatic geos, caves, flagstone rock platforms and sea stacks, including Tam's Castle, reputed to have once housed a hermitage on its flat summit. Depending on your stamina, you may want to do this 10.4 km (6.5 miles) walk in two stages, leaving your car or bicycles in the parking area near the start of the path to the Vat of Kirbister or at the opposite end at Lamb Head and walking part way, returning the way you came. You could arrange for a taxi to leave and collect you at either end, too. (For details, see Walk 4 in the brochure).
Updating of Walks and Interpretation Boards
As you may discover, several of the walks marked on the brochures and maps are in need of attention. Please note that they are scheduled to be restored in the very near future. New interpretation boards are being created for all walks. The newly installed board at St. John's Hill viewpoint is an example of the others that are currently in development.
Explore Respectfully
When you are out and about on Stronsay, please remember:
Keep dogs under close control at all times and clean up after them (there are bins in some spots for that purpose). Keep dogs well away from livestock.
Avoid disturbing livestock or damaging crops.
Do not park in front of gates or access tracks, and leave gates as you found them.
Do not pick wild plants or disturb wildlife.
Take your litter home with you.
To view a series of slides prepared by Outdoor Access Scotland about how to enjoy the countryside respectfully, please click here.
Public Toilets
Public toilets can be found in the waiting room on the pier, in the Fish Mart building in the village, and at the Community Centre in the middle of the island (near the school).
Explore by Car (Fuel)
If you're exploring the island by car, you may be glad to know that M. A. Williamsons supplies diesel and petrol for the island.