Travelling to Stronsay is an adventure in itself. You can use public transport to travel by ferry or plane. Stronsay  also has a great harbour for those arriving by private boat, with helpful facilities nearby for those who do. Whichever way you travel, you'll get a chance to see other Orkney islands, and most likely sunbathing seals, diving gannets, circling seabirds of all sorts and possibly whales, dolphins, basking sharks or orcas. Bring your binoculars and prepare to take lots of photos of wildlife against a backdrop of foaming water, beautiful vistas under a wide blue dome, and green-clad islands. Who needs a Mediterranean cruise when you can gaze through clear turquoise waters to the kelp forests below as you are travelling to Stronsay? Often the skies above are tinged with the fiery orange and pink of an Orkney sunset.
 Travelling to Stronsay by Ferry
Orkney Ferries operates a daily ferry service to Stronsay from Kirkwall.  All vessels serve hot and cold drinks and cold snacks at modest prices.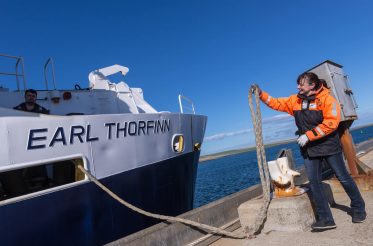 If you're bringing a car, you should book ahead of time. You can book online after creating an account, or you can contact the Kirkwall Office: Tel: 01856 872 044, Email: info@orkneyferries.co.uk
Foot passengers do not need to book ahead of time. You can pay for your tickets on board.
For current timetable information visit: www.orkneyferries.co.uk
Travelling to Stronsay by Plane
To purchase a ticket to travel to or from Stronsay, you can book online or phone the Loganair office at the Kirkwall airport: 01856 872494. You may be interested to know that travel into Kirkwall from Stronsay is subsidised and costs less than starting your travel from Kirkwall. If you want the experience of flying in an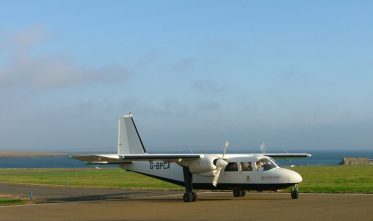 eight-seater plane (often with full view of the control panel!), you may want to consider taking the ferry to Stronsay and returning by plane.
The planes are quite noisy, so if you are sensitive to noise, you might want to bring ear defenders with you. A bus service (Number 4) goes from the travel centre in Kirkwall to the airport and returns to the town centre. You can also hire a taxi to take you to the airport or meet your plane when you return. Sometimes, taxis are waiting at the airport, but if you're under a time constraint, it's best to book one ahead of time.
Arriving in Stronsay by Private Boat
Private boats can tie up at the pier or to one of the moorings in the harbour. P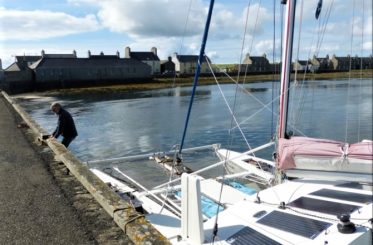 ier master Leslie Miller will visit you as soon as he's available. For a website offering information about sailing around Orkney, click here. If you're looking for a shower, laundry facilities and free wifi, the Fish Mart offers all three.
The Fish Mart cafe and the pub, both of which are just at the end of the pier, provide food and drink through the day or evening. If you'd like to cycle around the island, you can borrow bikes for the day at no cost from Ebenezer Stores, which is just a short walk along the village from the pier. There are lovely walks in both directions outwards from the village.