During your visit, take time to admire Stronsay's arts and crafts. The landscape of Stronsay has inspired many creative artists. Several of these have workshops which welcome visitors and form the Stronsay Craft Trail. Products from other makers can be found for sale in the Fish Mart Cafe.
The following artists have agreed to open their workshops to visitors as part of the Craft Trail: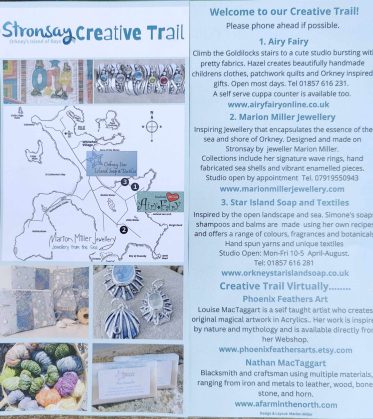 The following artists do not yet have workshops that can be visited, but they do have crafts for sale in the Fish Mart Cafe:
Holmsgarth Crafts makes colourful bags and other gifts that can be personalised, as well as seasonal items which are beautifully embroidered.
Aurora Waves produces handcrafted items reflecting the Stronsay environment, including beautifully turned pens.
Please scroll down the page to find details of individual artists.